When it is all about reducing cost and effort with an added benefit of improved performance with labeling- Barcodes are the solution!
Al Hadiqa is a leading Barcode labels manufacturers in Dubai. With the fine quality supply of blank labels and pre-printed forms, we promise perfect labeling functions for the client. We are manufacturing and delivering multiple types of barcode labels in Dubai. All types of barcode labels are available in standard and custom sizes on demand.
Why barcode labels?
Labels are not only meant for providing an identity of a product, but also for various purposes including stock management, tracking, sales, and many more business activities. The most convenient and easiest method to execute these all with efficiency is the incorporation of barcode labels into your business. Barcodes provide the best way to track and store information about goods, maintenance of stocks, and even in selling transactions. In turn, barcode labels will replace the strenuous manual effort behind each of the above-said business functions.
We design and supply the following barcode labels in Dubai and other emirates
Warehouse & Logistics Labels
Cargo labels
Healthcare & Pharmaceutical Labels
Retail Labels
Jewelry & Optical Labels
Manufacturing & Industrial Labels
Chemical & Hazardous Substances Labels
Food & Beverage Labels
Personal & Household Care Products Labels
Automotive Labels
Lubricant Labels
Aviation Labels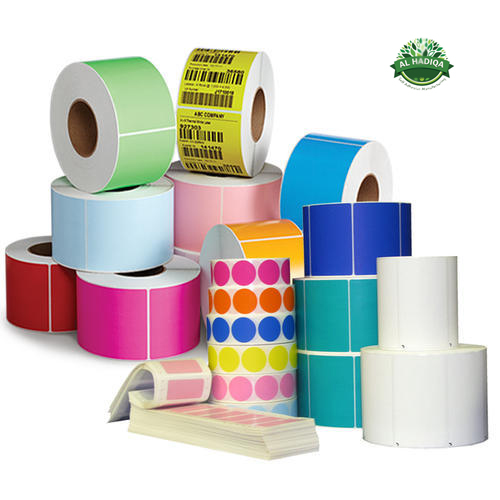 We take orders in all quantities and make the best delivery time happen with every order. With the finest quality materials and immediate delivery of all orders placed on barcode labels, we have been continuing success run in the industry. We are also popular as the best-priced barcode label manufacturers and suppliers in Dubai.
Why barcode labels from Al Hadiqa?
Al Hadiqa holds the largest array of thousands of stock cutters, a colossal extend of materials, and hundreds of potential color choices, so you'll be able to discover the right type of barcode labels in Dubai.
Wide choice of materials
Our barcode labels are available in any material including vinyl, paper, clear, and specialist polyethylene, and more.
Supreme quality labels ​
As we are using high-quality materials and adhesives, we ensure supreme quality indoor and outdoor use barcode labels in Dubai and other emirates as well.
Durable Adhesive
With wide types of adhesive alternatives, Al Hadiqa provides barcode labels suiting applications on any surface.
Any shapes and sizes
We provide readymade standard sized and custom sized barcode labels in Dubai and all other locations of UAE.
Get in touch with UAE's most popular barcode labels manufacturers and place your order.